We've Got Talent Ayana Del Valle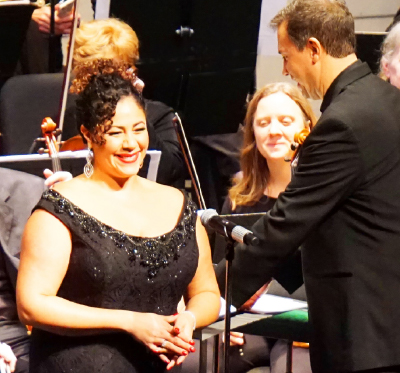 Anyone attending one of Ayana's performances  already knows they are  witnessing something very  special. With a range in so  many genres Ayana has been  delighting audiences with a  personal style that has become  her awe inspiring signature.  Ayana was born here in Endwell. Her sister is also a very accomplished and talented singer. When they were growing up their father taught them how to sing in harmony and they would often perform together for family, friends, and special events like weddings. It was very early on that people started to recognize her gift. Ayana recalls when she was in 4th grade her teacher, Mrs. Bennett had pulled her aside after music class and asked her to sing a solo.  It was during this solo performance that Ayana realized there was something about her voice, something she would always be very grateful for. Ayana started singing a lot more at school events in chorus and was also playing violin in orchestra. When her band teacher, Mr. Robin Linnaberry, started a jazz band he had asked her to sing with them making her M.E.'s first Jazz vocalist. And so she continued performing in orchestra, choir and musicals while also playing on the school's softball and volleyball teams. After high school Ayana went to the Purchase College Conservatory of Music with a Vocal Jazz Performance Major.  It was here in New York that she would make her mark in music performing on many notable stages and clubs and with many legendary artists.
From the days in NYC till today, Ayana has never stopped singing. And little by little the path that Ayana started on as a child singing with her family has brought her to where she is now. To her long list of credits singing, writing and performing on iconic stages like Carnegie Hall, The Blue Note Jazz Club, Smoke, Cleopatra's Needle and other stages across the US and Caribbean, she now also teaches private voice lessons founding the Del Valle School of Voice.  Recently you may have caught Ayana performing locally at establishments like the Number 5, events like the Danielle House "Fun Raiser", and at the Forum where she sang with the Binghamton Philharmonic in an elegant affair paying tribute to Jazz greats like Nina Simone. You may even catch her on America's Got Talent having gone to their auditions recently. Ayana's heart has always told her to put herself out there, take a chance and pursue her goals and dreams. You never know what you can accomplish until you try, and we can't wait to see what is next for her. Thank you Ayana for helping make this a great place to live!