Fitness Corner
By: Tom Carter
Congratulations !!!
SUNY Broome Cross Country
2019 Midstate Conference Champions
2019 Region 3 Champions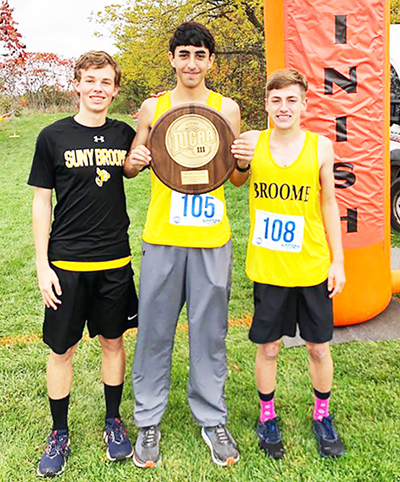 SUNY Broome Cross Country has been a mainstay in the school's athletic department since 1953.  Outstanding runners Jim Knight and Mario Marini were just a couple of the stars before I became an assistant coach in 1982, helping guide Mike Timmons and your own My Town partner John Vallone to outstanding performances.  I took over from Doug Garner in 1984 and began a 36 year run as head coach of the program.  There was on and off success through 2008, the year that became the turning point for Broome Cross Country.  Runners Chris Lake and current assistant coach Steve Esposito were instrumental in helping take the program to a high level.  All-Americans Michelle Van Ostrand, Heather Warfle, and Taylor Woodcock led the girls' team to top 3 finishes in the National meet in both 2008 and 2009.  And All-region performer Esposito and All-American Jeff Smith led the men's team those 2 years.  Since then, success has continued with a men's 4th place finish in the National Meet in 2011, led by All-Region runners John Salva and Luke Hardy.  Other great runners, including Mike Kent, Alicia Brown (twice), Kathy Donnelly, and Yvonne Smith became All-Americans.  And All-Region award winner C.Fred Joslyn became Broome's most accomplished runner in history, qualifying for the 2012 Olympic Trials with his 2:18:51 win in the Mardi Gras Marathon in New Orleans, Louisiana.  All this has led up to our current men's team of Jeremy Hall, Eric Repp, Eaan Hackett, Mark Inzirov, Luke Dehart,  Dominic Pasquale, Nolan Scofield, and Tyler Dingman, first scoring a huge upset win in the Midstate Conference race, then becoming the first team in school history as well as the first school without a track team to win the Region 3 Championships when they won a hotly contested race between 4 teams separated by just 10 points.  Broome was actually tied with Hudson Valley with 65 points each, with Broome awarded the win on the tiebreaker.  All-Region runners Hall (3rd in 28:26 over the 5-mile course), Repp (4th in 28:52), and Hackett (8th in 29:41) all made the All-Region Team, with Dehart (29th in 32:26) and Inzirov (30th in 32:31) closing it out for the Hornets.  And next weekend they will attempt to become the first team in Broome history to finish in the top 3 at the National meet.  Stay tuned!