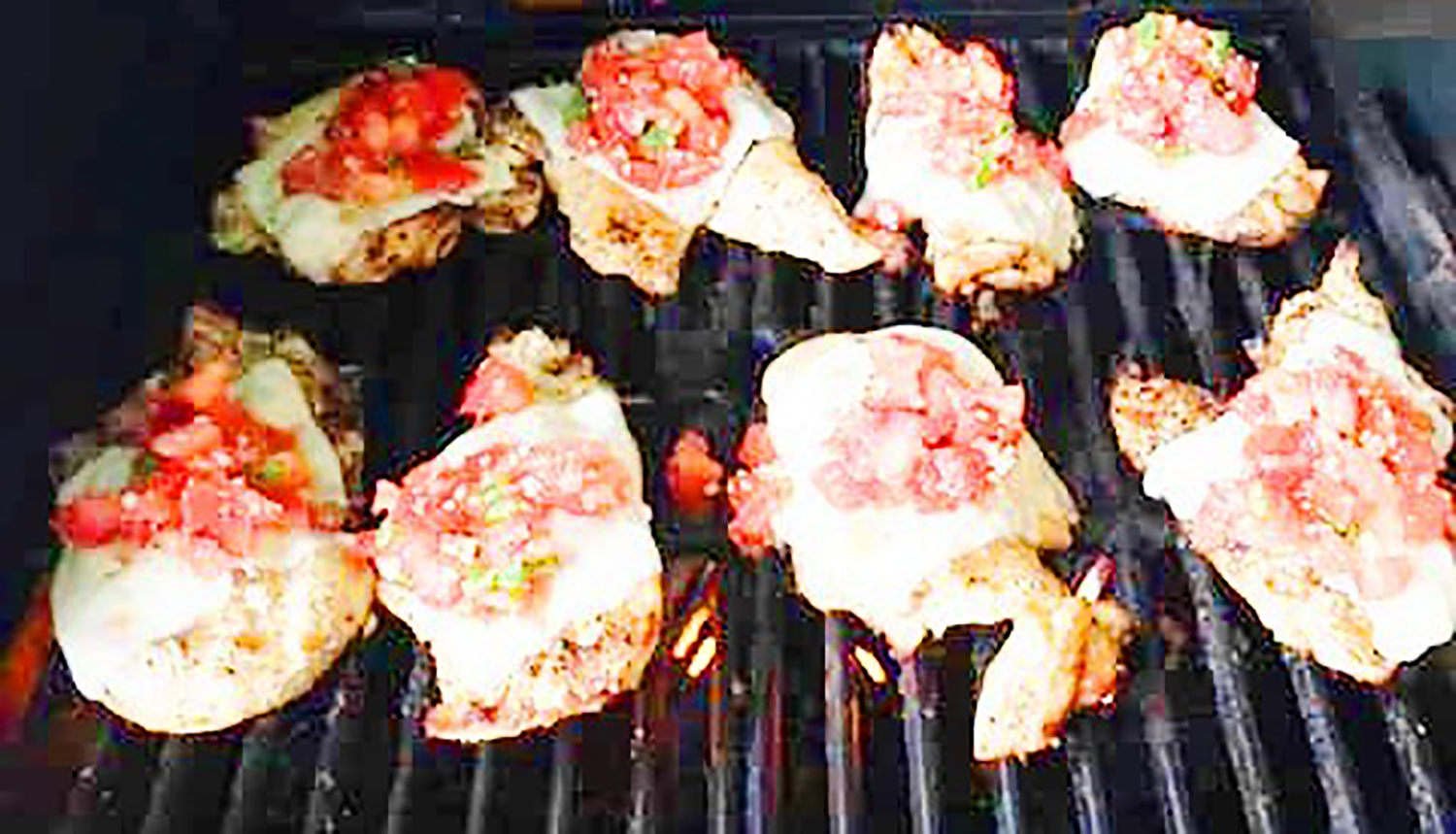 Neighborhood Chef Nichole Marie Nichols
As a family, we decided that we needed to become healthier and make better dinner decisions,  so I was always on the lookout for a new recipe to try.  I found this recipe on Delish.com and added a few tweaks of my own. And for those calorie counters, each piece of grilled chicken is 360 calories per MyFitnessPal app.
Ingredients
4 Tbsp extra virgin olive oil
Squeeze the juice of 1 lemon
Kosher Salt
Freshly ground pepper
1 tsp dried oregano
4 slices of mozzarella cheese
2 cloves of minced garlic (or if you prefer to use the already minced garlic, I used
minced garlic in olive oil and that's 2 tsp per clove, so a total of 4 tsp)
1 tbsp of freshly chopped cilantro (or traditionally – freshly chopped basil)
4 boneless chicken breasts (mine were so large I cut them in half for marinating & cooking purposes.
3 tomatoes  chopped (I chose vine tomatoes because I like the taste better)
Freshly grated Parmesan for serving (I was so excited I forgot this part)
Instructions
In a bowl, combine oil, ½ the lemon juice, 1 tsp salt, 1/4 tsp pepper, and oregano. Wisk to combine.  Transfer to a large resealable bag, add chicken. Refrigerate for 30 minutes, I did this step for 45 minutes and kept going back to stir the chicken in the marinade.
Tomato mixture: Combine tomato, garlic, cilantro, and remaining lemon juice, and season with salt and pepper. Set aside
Pre-Heat Grill to medium-high heat. Add chicken. Discard excess marinade (I did not have much leftover).  Grill until charred and cooked to an internal temp of 165 degrees F.  Approximately 5-7 minutes on each side. While the chicken is still on the grill, top each breast with 1 slice of mozzarella cheese and cover until cheese is melted (2-3 minutes). Top with tomato mixture. Garnish with Parmesan cheese.  I added mine w/ steamed broccoli & garlic bread.
This is a new family favorite. Definitely making this recipe again!
ENJOY!!!    ENJOY!!!   ENJOY!!!   ENJOY!!!   ENJOY!!!   ENJOY!!!