Sometimes love comes
when you least expect it.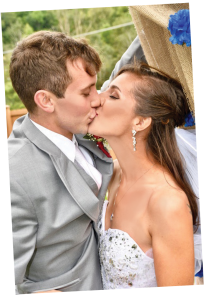 Patrick Anthony was working at his family's service station, Anthony's on Main St in Binghamton, on Valentine's Day in 2016 when Alyssa Powles pulled up with a bad wheel bearing.  The two of them got talking and one thing led to another and she invited him to her Valentine's Party.  The next thing they knew it was six in the morning and they had spent the entire night talking about life.  "In life you have to be certain before you make that step toward marriage and by that morning I was certain Alyssa was the one I wanted to marry.  We became inseparable and decided to move in together and have a beautiful  healthy daughter Harper Rose."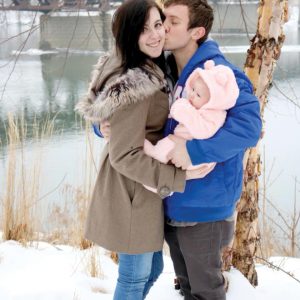 In fact it was at the baby shower that Patrick proposed to Alyssa.  He gave her a giant sized card with a proposal message inside.  When she put down the card she saw Patrick on bended knee with a ring asking her to be his wife.  "It was very emotional". 
Patrick and Alyssa now both work for the United States Post Office.  As for married life Patrick says he could not be happier.  And for all of you young couples out there wanting to know the secret, Patrick said "Make sure you are mature enough to share a life with another, always support each other and never let what other people say affect your situation. Don't make your problems public as nobody should know what goes on behind closed doors.  Always remember you are married, stay focused, stay positive, never focus on the negative, always put your significant other before yourself but never ever forget about yourself as you have to be happy with yourself before you can share that happiness with another." 
My Town wants to congratulate the newlyweds.  
They have such great advice for others and the perfect love story.