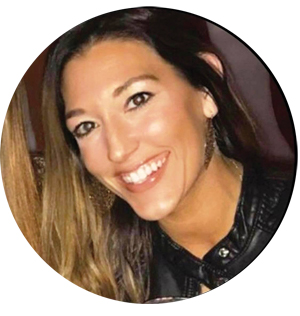 Kelly Roma March's
Neighborhood Chef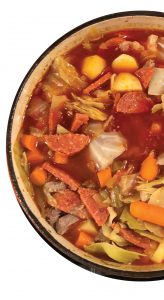 This recipe is a family favorite to make around St. Patrick's day after cooking a ham. It's passed down from my great-grandmother, Filomena Silba, and this method  is the way my mother's side of the family has always cooked ham and cabbage soup.                      
At one point, very early on in their marriage, my mother who is Italian told my Irish father that she was going to make ham and cabbage soup for dinner. He was surprised but excited. He loves ham and cabbage soup. When my father sat down to the table to eat, he was confused about what he was seeing. The soup he grew up eating never had pepperoni in it, nor was it red in color. He didn't mention anything (smart man) and ate it anyway, absolutely loving it. This recipe is hands down how he prefers to eat it now. These are common occurrences when an Irish man marries an Italian woman. Irish/Italian fusion food.
Ham and Cabbage Soup (Italian style)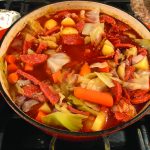 1 Hambone
1 onion
2-3 potatoes
Chicken stock (enough to cover your whole ham bone).
Cabbage- 3/4 of a head
Carrots- 2-3 peeled and sliced
1 large stick of premium pepperoni
salt & Pepper to taaste
Place the leftover ham bone in a large pot and fully cover it with chicken stock. Make sure you add quite a bit of chicken broth. Cut an onion in half and add it to the pot (large pieces or halved because it will be removed later). Simmer for an hour and a half. While simmering, clean, peel (if preferred) and slice the potatoes. Put them aside. Peel the carrots if needed. Put them aside. Slice 3/4 of the pepperoni stick into round slices and set aside. After an hour and a half, remove the ham bone and the onion from the broth. Cut the ham left on the bone off and set aside. Toss out the bone.

Add the cabbage, potatoes and carrots to the broth and slow boil until the potatoes are tender. (About half an hour). Add in the ham, and pepperoni and simmer for 10 minutes. Ladle into a bowl and add salt and pepper to taste!