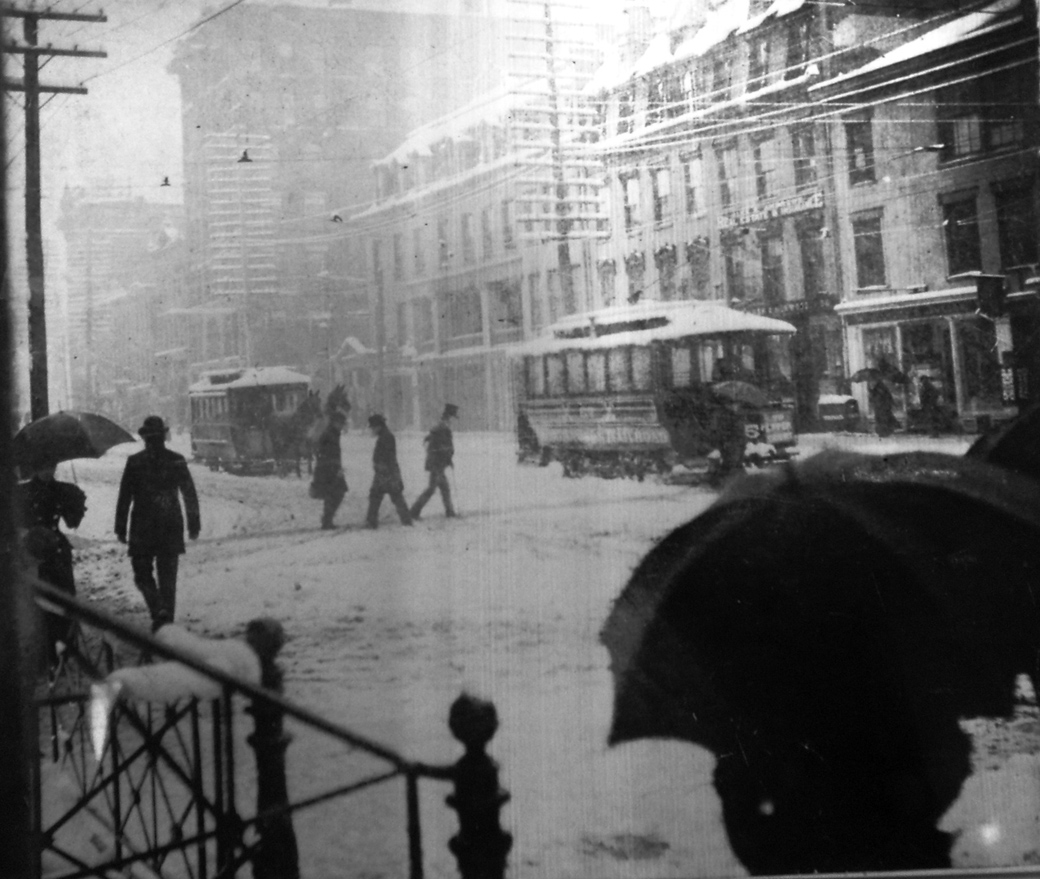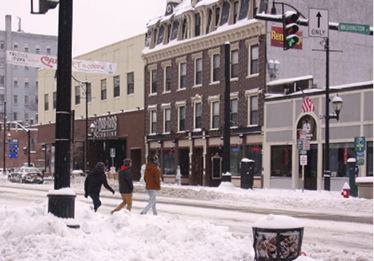 And The Golden Snowball Award goes to……..
In the 1970's, cities in upstate New York started competing against each other in a friendly contest  as to which city had the most snowfall for the season.  WHAT ????  Yes it's true J . Although the contest saw a short break it started back up again in 2002 between 5 cities; Albany, Binghamton, Buffalo, Rochester and Syracuse.  In the 2016-2017 season, Binghamton walked away with bragging rights, a trophy and a check for $100 with a total snowfall of 135.2 inches.  Go Team !!??  This year however we're currently pushing up 3rd.   Who will bring home the trophy this year?
The two photos of court street Then and Now might work out good. They both have 3 men in the street in the same location. That's kind of neat. And the contest is kind of neat.
From this list you could also pick out a bunch of past years since 1892 to show Binghamton's Snowfall and reflect a little more of the "Then" perspective to the "Now" perspective.
Season

 

Binghamton

 

 
Season

 

Binghamton

 

 
Season

 

Binghamton

 

1892
59.5
 
1959-60

 

105.3
 
1989-90

 

74.8
1893
65.6
 
1960-61

 

99.7
 
1990-91

 

67
1894
73.6
 
1961-62

 

65.6
 
1991-92

 

56
1895
40.2
 
1962-63

 

95.3
 
1992-93

 

122.7
1897
54.1
 
1963-64

 

103.3
 
1993-94

 

131.3
1898
46
 
1964-65

 

76.4
 
1994-95

 

52.8
1899
46.2
 
1965-66

 

83.7
 
1995-96

 

134
1900
30.5
 
1966-67

 

88.5
 
1996-97

 

93
1901
49.6
 
1967-68

 

63.6
 
1997-98

 

92
1902
67.2
 
1968-69

 

64.5
 
1998-99

 

73.3
1903
56.3
 
1969-70

 

115.8
 
1999-00

 

82.4
1904
52.2
 
1970-71

 

108.6
 
2000-01

 

112.6
1905
39.1
 
1971-72

 

106.2
 
2001-02

 

63.5
1906
47.9
 
1972-73

 

67.7
 
2002-03

 

117.6
1907
68.9
 
1973-74

 

86.7
 
2003-04

 

106.4
1908
61
 
1974-75

 

67.1
 
2004-05

 

106.5
1909
41.9
 
1975-76

 

76.3
 
2005-06

 

74.9
1915-16
77.4
 
1976-77

 

74.4
 
2006-07

 

78.6
1918-1919
19.2
 
1977-78

 

115.3
 
2007-08

 

70.7
1935-36
49.7
 
1978-79

 

80
 
2008-09

 

73.3

1938-39

28.2
 
1979-80

 

56.8
 
2009-10

 

81.4

1944-45

94.1
 
1980-81

 

59.3
 
2010-11

 

117.5
1951-52

 

72.2
 
1981-82

 

81.6
 
2011-12

 

43.5
1952-53

 

70.4
 
1982-83

 

81
 
2012-13

 

69.1
1953-54

 

65.1
 
1983-84

 

70.9
 
2013-14

 

85.4
1954-55

 

94.8
 
1984-85

 

62.5
 
2014-15

 

93.4
1955-56

 

122.6
 
1985-86

 

76.3
 
2015-16

 

32
1956-57

 

90.2
 
1986-87

 

78.8
 
2016-17

 

135.2
1957-58

 

111
 
1987-88

 

81.6
 
2017-18

 

90.6
1958-59

 

78.7
 
1988-89

 

47.8