Tall Blonde Café
Meet Yvonne Smolinsky – the owner of the Tall Blonde Café.  For those of you who have been there I have news – they are moving!  Here's a hint they are staying in Endwell. 
What's so special about this place?  Well, being a kolachky connoisseur myself I say their kolachky is reason enough to come, but then again, so is their homemade soups, stews, chili's (many vegetarian options) Halupki, and Lasagna.  Plus they have a large assortment of coffees and baked goods.  No matter what you get you won't be disappointed.
Tall Blonde Café has only been in business for a year but Yvonne has been cooking, baking and catering for over twenty.  Surprisingly Yvonne has no formal schooling. "I grew up in a family that always had wonderfully homemade meals and desserts. My dad did the grocery shopping every Saturday and my mom used those groceries on great family recipes that I still use today. My parents passed the desire and skills to cook to my sister, brother, and I. All three of us can cook and have now passed the love of cooking down to our children."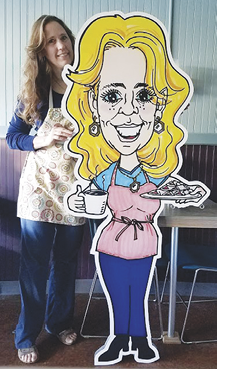 Yvonne's special cause is the Mercy House in Endicott. Tall Blonde Cafe donates soups, entrées, and baked goods weekly.
Yvonne thank you for helping to make this a great place to live and thanks for treating all your customers with so much care and love.  Can't wait to see your new place!