Spotlight – Henry Bradford Endicott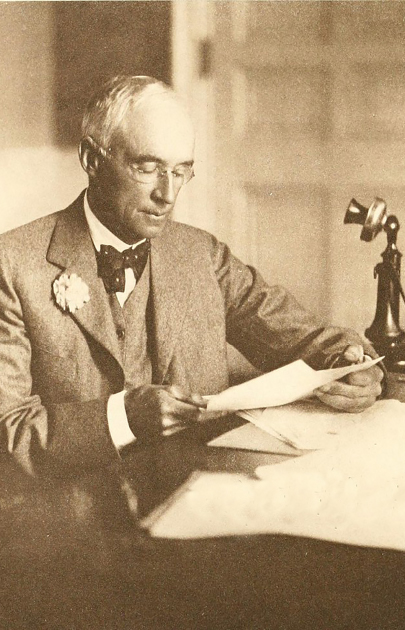 Henry  Wadsworth Longfellow is noted for saying  "When a great man dies, for years the light he leaves behind him, lies on the paths of men."   
This Christmas season I wanted to tell the story of Henry Bradford Endicott whose light has guided men to advance themselves through business and charity and to become the International leaders from which books are written.
Henry always had a mind for coupling business with giving, a mindset that began when he was just a boy and would sell milk and split the profits with his mother.  At 22 he started H.B. Endicott & Co and then became the treasurer of the Commonwealth Shoe & Leather Company.  It was this company that led him to this area – not with the initial intent to settle or make his footprint, but rather to solve a problem with a company that sold him the needed leather resources.  Upon discovering the issue was that the company had financial difficulties, Henry purchased it and began making plans to grow this company and help the people of this area.
One of his most notable outreaches to help another was to a man who was his foreman and had dreams of being a Partner in his business yet had not the money to back it up.  To this Henry loaned George F. Johnson $150,000 and renamed the company the Endicott Johnson Corporation.   
Through their combined leadership EJ became the largest employer in the United States.  And during a time when other factories were being plagued with strikes EJ was proud to say they had none.  Workers were happy because not only were they being given benefits unheard of for its day but also because Henry treated everyone as an equal regardless of their position in his factory or in life.
Henry's spirit and his can-do attitude keeps the light shining bright for those who are continuing to make Endicott a great place to live and to work.  By example, Johnson dedicated himself to coupling business with giving, including loaning Watson the money he needed for IBM to become an International Powerhouse.  And this spirit has drawn others in as well including start-up Imperium3 (NYS's only Lithium Ion battery business), Tiger Ventures (which is defining the school of the future with their on-site business incubator which is spinning businesses including the hydroponic company AgZeit), and BAE Systems, where thanks to them, every second an aircraft takes off in the world with controls made right here in Endicott.  And not only are these companies creating thousands of jobs in this area but their sense of giving back to the people, nonprofits and general community in this area is such an outpouring of support.
We will continue to see great things for Endicott for as Newton's law of Inertia has taught us, objects in motion stay in motion.  And the object of giving and advancing the businesses and people of this area have always been the culture of the people in Endicott as pronounced by the acts of Henry B. Endicott.  This Holiday season what will you do to continue in this path of making this a great place to live?