The Holidays and Festivities are here!
Enjoy spending time with your family, friends, neighbors and four-legged family members.  The Holidays is a wonderful time of giving, celebrating old traditions and starting new ones, peace, love, good will to others and remembering those who can not be or those no longer with us.
Cooking and baking is so enjoyable especially this time of year. Digging through your favorite family holiday recipes that were handed down through the generations, creating your menu, baking cookies to give as gifts…yes, always keep some for yourself.  Snuggle up on the couch, watch the classic and new Holiday movies, sing Holiday carols…it does not matter if you can sing well or not…the Holidays are very special, spiritual, festive and often an emotional time of year.
From my home to yours…
Merry Christmas, Happy Hanukkah (Hanukkah Sameach), Happy Kwanzaa….Happy Holidays to all.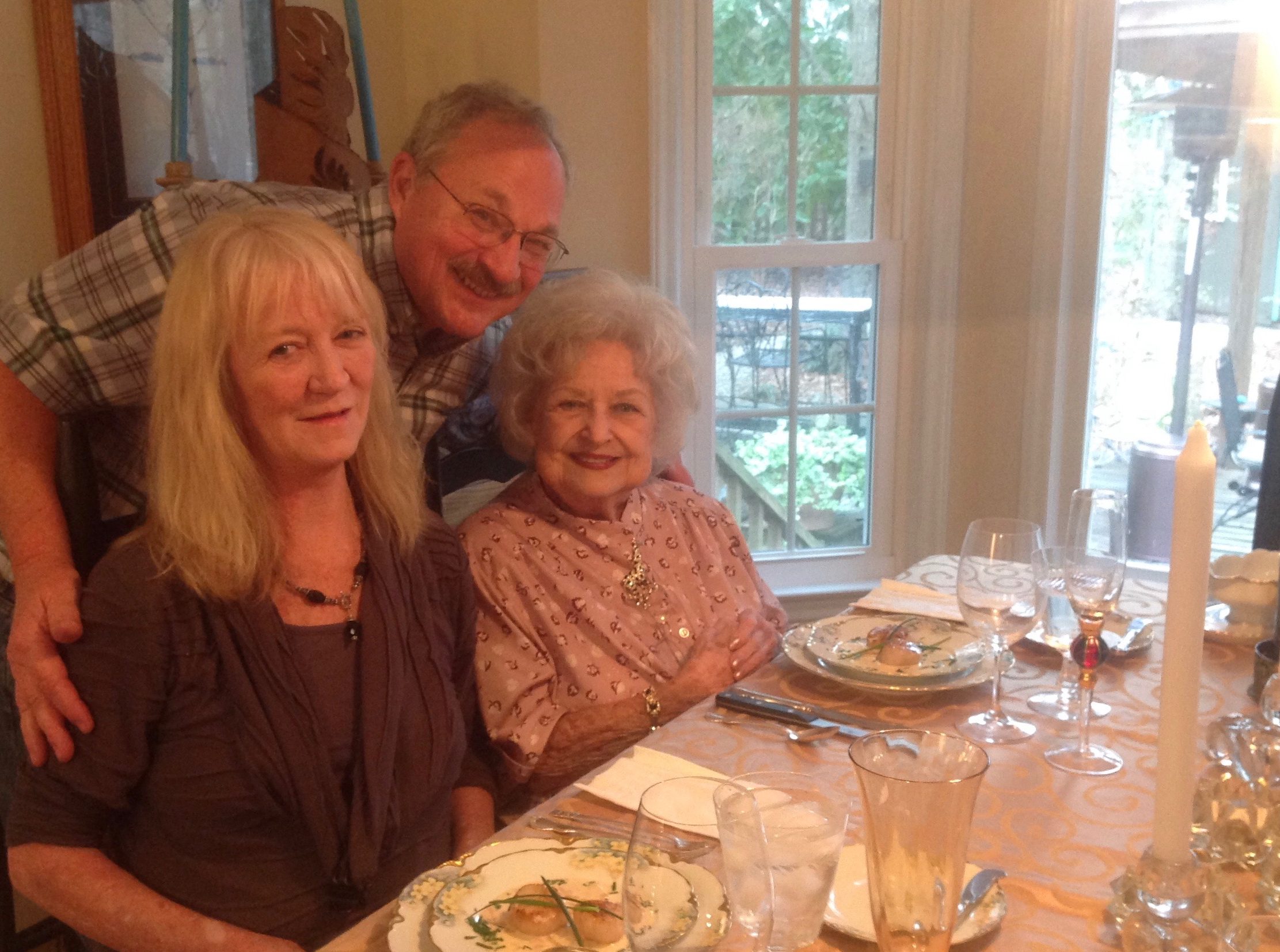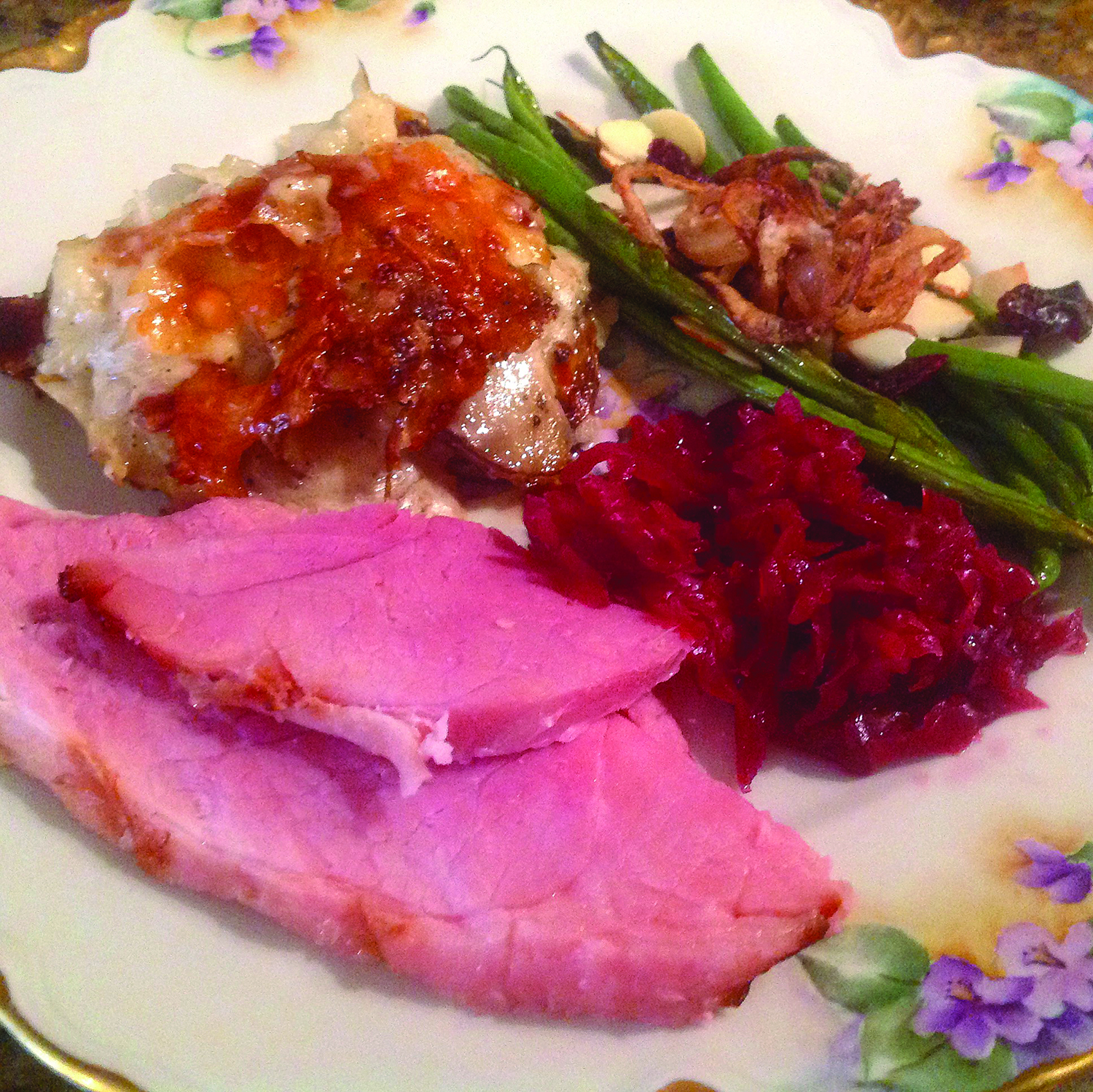 Aunt Ruth's Ham
My Aunt Ruth's (Ruthie) ham is very easy and so delicious.
The ham is simmered on top of the stove for about 3 hours or so. Best of all…you can make GRAVY. Yes, Gravy!
Buy your favorite brand of a fully cooked semi boneless ham. Butt end or small shank, that is up to you.  Both are very flavorful.  The butt end is leaner and you get more a little more meat.  The shank is larger, fattier, a bit more flavorful and for many people is easier to carve. We always preferred the butt end.
**Note:  For this method, a butt end works best as it fits better in your Dutch oven or the largest and widest pot you have. 
Lightly score the ham in a diamond pattern all over and insert plenty of whole cloves (10-20). Place in a Dutch oven.  Top the ham with 2-3 TB brown sugar and pat it on. Do not salt as the ham itself is salty enough. Add a little water to the Dutch oven, about  1".  Bring to boil, cover and turn down to a low simmer.  You do not want to boil the ham, you are basically heating it up.  Simmer approximately 30 mins per pound.  A seven pound ham and over takes about 3- 3 1/2 hours to heat up.
Important! Add more water as needed, check often. Do not let it go dry. Remove from the pan. Let  it rest for 10-20 minutes.  Make gravy if you desire.  Carve and serve.
(Aunt Ruth, I love you from the bottom of my heart. Thank you for the many years that we enjoyed your ham recipe. )
Dauphinois Potatoes
(Recipe by Martha Stewart)
Oven temp: 350 degrees
Serves 4-6
Cooking time: 1 hour
You will need:
2 pounds Yukon Gold Potatoes
2 cups heavy cream (whipping cream)
1 cup milk
1 finely diced shallot
1 tbsp fresh thyme leaves
1/2 tsp freshly grated nutmeg
3/4 tsp salt
1/2 tsp ground black pepper
2 cups grated Gruyere cheese ** 1 cup for each of the two layers
Peel and slice the potatoes very, very thin. I use a mandolin.
 Add them to a large saucepan or dutch oven along with the cream, milk, shallot, thyme, nutmeg, salt and pepper. *You will be reserving the cream mixture after cooking the potatoes.
Bring to a slow simmer for 10 minutes over medium low heat. Remember that you will be reserving the cream mixture. Carefully, Drain the potatoes.
Layer the partly cooked potatoes in a shallow baking pan in two layers, adding the grated gruyere cheese between the layers and on top.
Pour the reserved cream mixture over the potatoes and bake at 350 degrees F for about 1 hour until the top is golden brown and the potatoes are fork tender.  Increase the heat for 5 minutes if the potatoes are not brown enough.
Allow to sit for 10 -15 minutes before serving.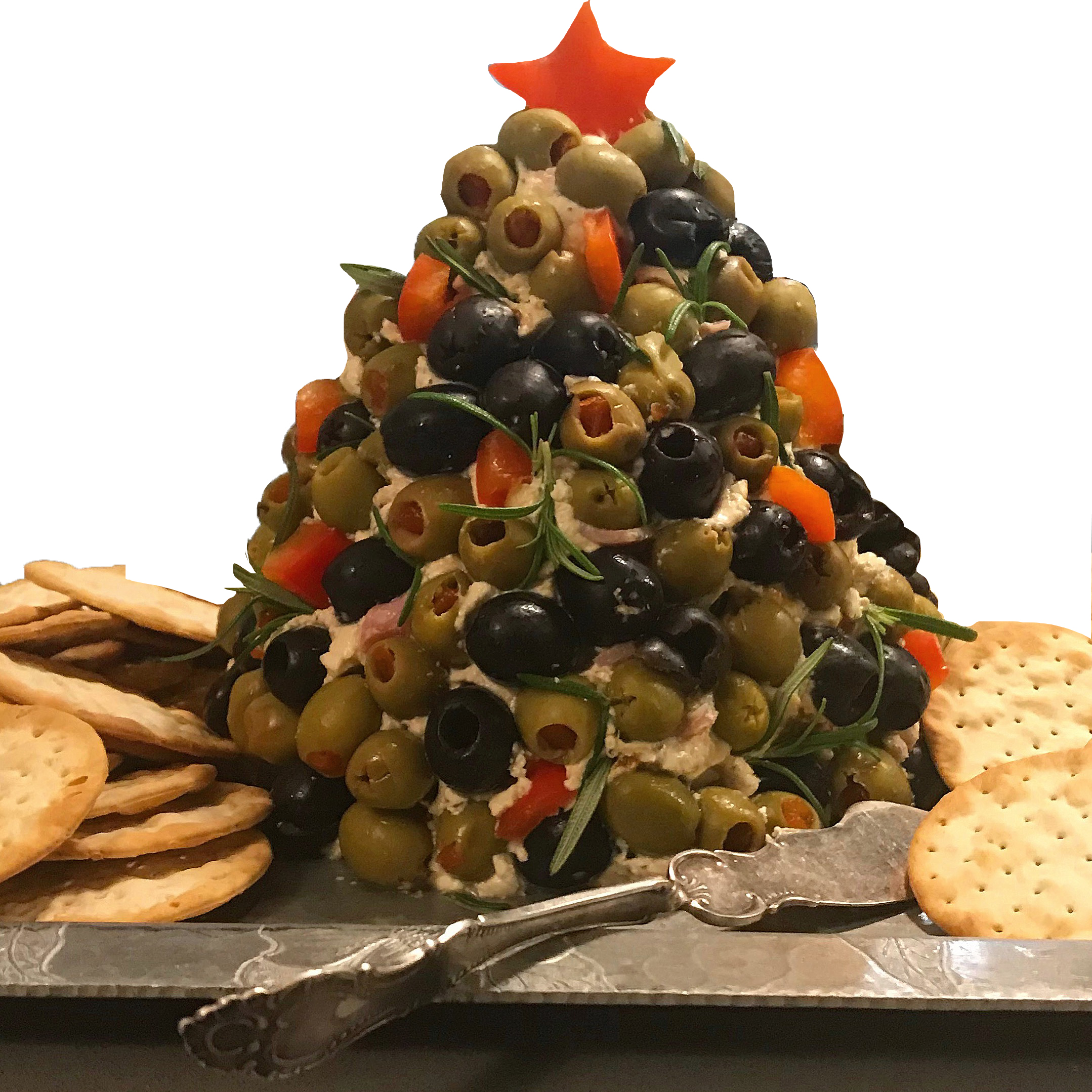 Antipasto Cheese Ball Christmas Tree.
This is an absolute show stopper and so delicious.  Serve with plenty crackers, prosciutto and salami. Be warned, your guests will take a lot of pictures.  It is so pretty, your guests may not want to be the first one to indulge, so pick up a knife and start enjoying.  🙂
Ingredients
For The Dip:
4 cups cream cheese, softened for at least 30 minutes
1/2 cup sun-dried tomatoes, chopped
1/2 cup red bell peppers, diced
 1/4 cup chives, chopped
1/4 cup parsley, chopped
1 tablespoon onion powder
2 teaspoons garlic powder
Salt, to taste (if desired)
For The Decorations:
     
1 1/2 – 2 cups pitted mixed olives black, green, Kalamata olives, pat dry
1/2 cup sun-dried tomatoes, chopped (dried with paper towel
Rosemary leaves/sprigs to decorate
Yellow pepper or cheese cut into a star for the top of the tree
Crackers, Salami, Prosciutto for serving
Instructions
In a bowl combine all the ingredients for the dip and mix until the ingredients are well combined.
Place a piece of non-stick plastic wrap on a clean bench top or work surface. Scoop the cream cheese mixture out onto the plastic wrap and completely cover with another piece of wrap (you may need two pieces to cover it).
Use your hands to shape  the cream cheese into a tree shape. Then, carefully pick up the tree with one hand and peel off the plastic wrap on the bottom of the tree with your other hand. Place the tree straight onto a serving plate.
Use a thin spatula or knife to smooth the edges. Decorate with olives, sun-dried tomatoes and rosemary leaves/sprigs, lightly pressing each element into the cream cheese to ensure they stay on. Brush with some sun dried tomato oil from the jar (optional but adds even more flavour)!
Top with a star cut out of a yellow bell pepper or thick slice of cheese star.
Serve with crackers, salami and prosciutto slices. 
ENJOY!
Recipe Notes
The cream cheese is more stable in a wider tree shape rather than a tall, thin tree. The taller tree folds over and collapses.
If you find your cream cheese has softened too much and won't hold its shape, refrigerate it until it thickens again (about 20 minutes).
Pat dry each olive and sun dried tomato on a sheet of paper towel before decorating your tree to make sure they stay on, or they may slide off if covered in oil from the jar.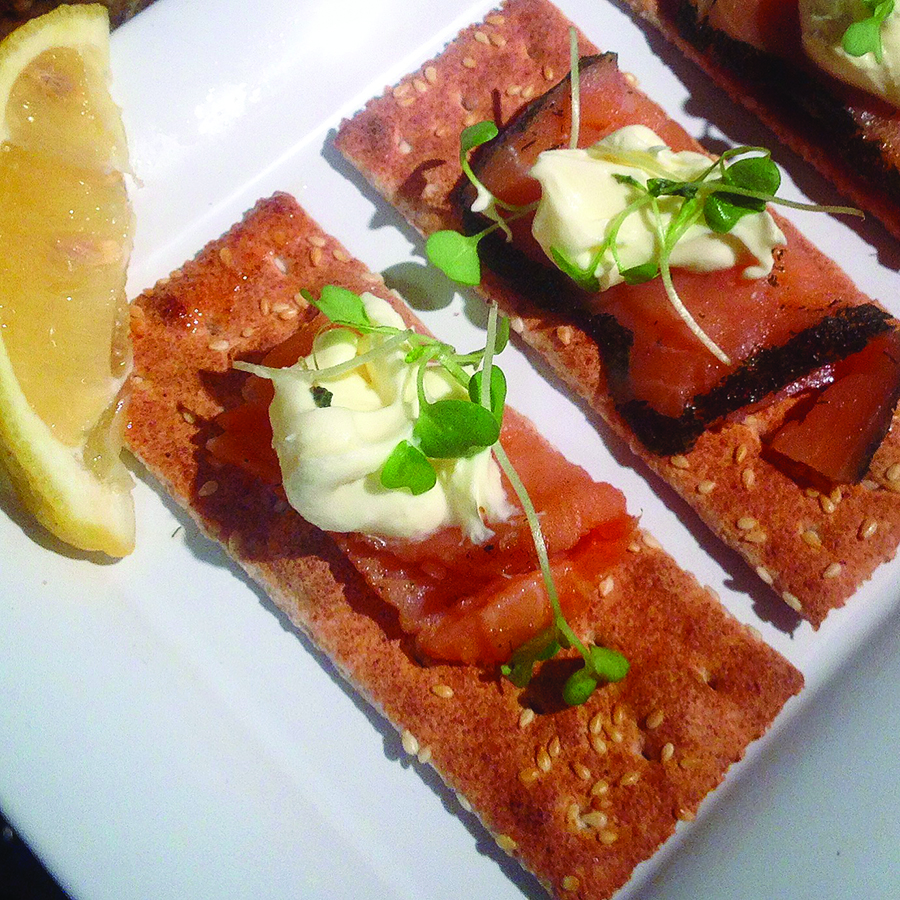 Super Easy Appetizer
Crackers topped with smoked salmon, Creme Fraiche and Pea Shoots. Dill works perfectly as well.