Coach  Joe Chesna
How to say thank you to a coach…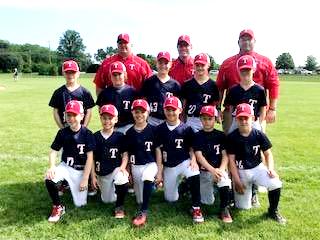 Former MLB Outfielder Ken Griffey Jr. inspired young athletes everywhere when he reminded them that "talent may get you on the field but it's effort and attitude that will keep you there".  Anyone who has played a sport, either competitively or to stay fit knows that the effort and attitude is something you have inside and is fostered by the person charged with giving you direction, instruction and training.  This person is simply known as Coach.  And My Town is proud to highlight a Coach who has inspired young athletes in this area for more than a decade.
Coach Joe Chesna was born and raised in Binghamton.  "Growing up I played as many sports as I could, you could find me and my friends at Fairview Park almost everyday doing something. Going through school in the Binghamton School District, I played both Baseball and Football for the Patriots.  Later in life, I coached at Binghamton High School at both the JV and Varsity Levels. My passion was always baseball. Both my children are very active in youth sports and activities and I have always been involved in coaching their youth sports."
Coach Chesna is with the Maine-Endwell Little League, a team that was established in 2008, by combining Endwell Little League and Maine-Nanticoke Little's.  MELL has a long tradition of success and participation by the youths in our area on both the baseball and softball side. This was solidified in 2016 when the little league team from Maine-Endwell won the Little League world championship.
"I joined the Little League Board in 2013 and in 2017, I became the Board President. Our little league, like many programs, have tremendous support from parents, local businesses, government entities, donors and fans.  Annually we have about 500 children throughout our program from ages 4 – 19.  Our League is truly a community effort and hundreds of volunteers help ensure we are creating the best environment for our youths to compete and learn. Same can be said for our community partners that sponsor teams, donate resources and really embrace the little league.  The boys that won the World Championship in 2016 hold a feat that many can only fathom. Many of the players and coaches from that team are my neighbors and I have gotten to know them well over the years. There are several reasons those boys played as well as they did; the most significant was their preparation and work ethic. That team played together for years, working together as a group, growing as a group and getting both mentally and physically ready for a journey they all will never forget."
This year's team continued to make our community proud. All of the players were fan favorites and they all agree with the Coach's comments about goals and being mentally and physically ready.  Joey Chesna, 2nd baseman, said it is important to be physically active because "I want to be as healthy and fast as I can for every sport."   Marco Konrad, 3rd base and Pitcher says he stays in shape not only for baseball but also by playing travel AAU basketball and hopes to one day be in the NBA.  Brady Palmer, Shortstop, and Pitcher, says he is a future MLB player and his dad and  2nd Baseman Jose Altuve are his role models. And Natalie Chesna, Catcher, says it has been important to her to not only stay healthy but to remain strong and have a strong self-image through fitness.
Listening to these future sports and fitness leaders is a testament to their internal fortitude and the values their great coach has instilled in them.  And that my friends is the best thank you a coach can ever receive.