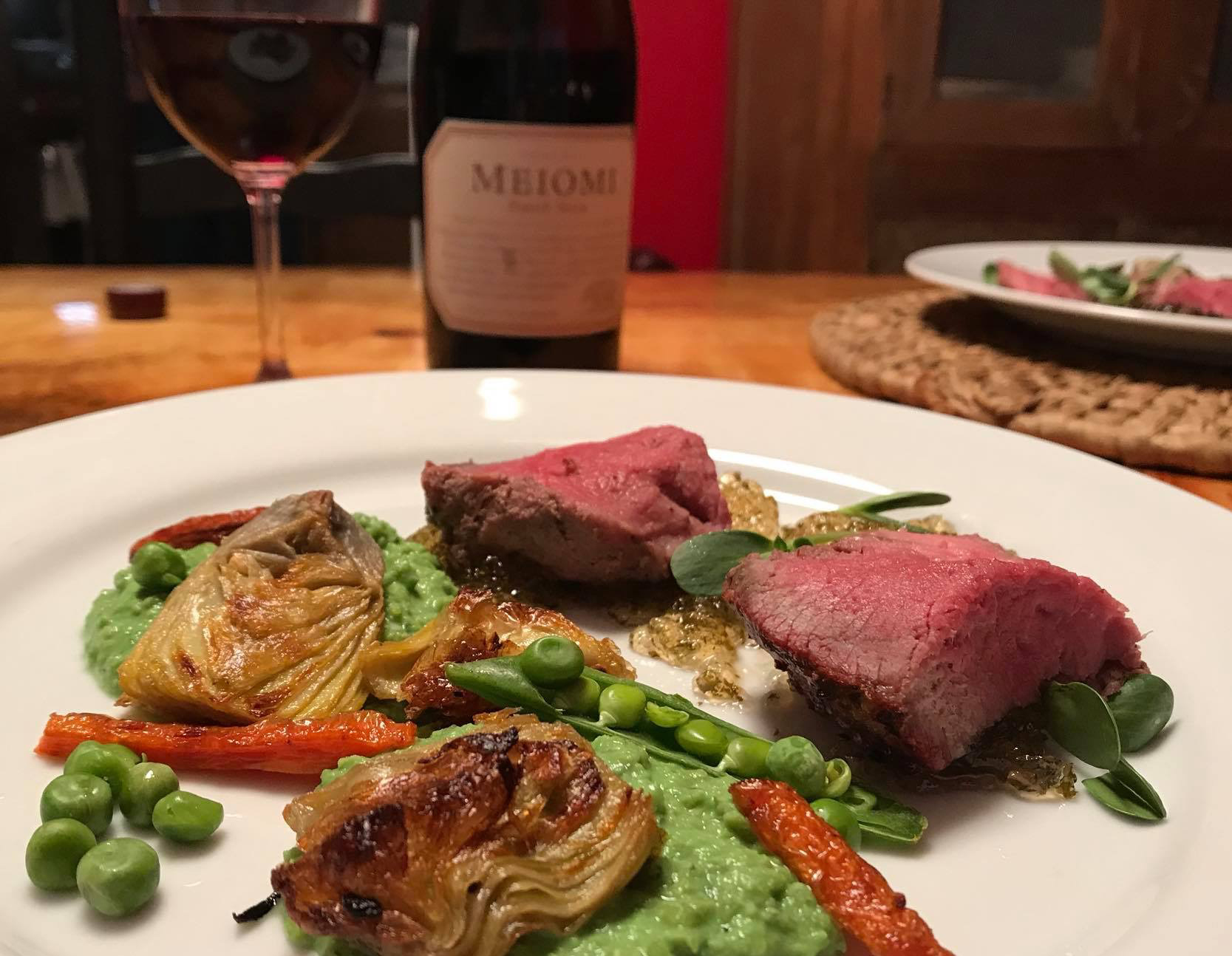 Easter Dinner
by Barbara Bozon
At Easter time, my brother Jimmy and I loved going to the Easter Parade with my Grandma and Grandpa Yonkin, visiting the Easter Bunny at Fowler's Department store and dying eggs with our Mom, trying to make them one of a kind Easter masterpieces. Easter Sunday, our parents made sure we woke up to find baskets filled with chocolate bunnies (I always ate the ears first), M&Ms and other candies. There was always a beautiful pastel colored Easter Egg covered with glittery sparkles, the kind with the "doorway" that you looked in inside to see something magical. For Easter dinner, our Mom always roasted a leg of lamb with mint jelly, mashed potatoes and lamb gravy. I kept my family tradition to roast a leg of lamb for Easter Dinner.
Let's get cooking!
Easter Dinner – Reverse Seared Leg of Lamb:
3.5-5 lbs boneless leg of lamb. (Remove the silverskin, excessive fat and large amounts of fat within the lamb leg. )
Marinade
1/2 cup extra virgin olive oil (( use a good quality))
1/2 cup juice from 1 large lemon
10 cloves garlc – peeled
1/2 TBSP dried oregano ((greek preferred))
1 TBSP kosher salt
2 tsp fresh ground pepper
Mint Jelly with leaves for serving, optional. *Tracklements and Roland's brands are exceptional quality and found in most grocery stores.
Reverse Seared Leg of Lamb with a Spring Pea, Mint and Truffle Oil Puree, Roasted Carrots and Artichoke Hearts, Pea Tendrils and Mint Jelly. 
Reverse Seared Leg of Lamb:  
Recipe courtesy of my foodie friends, Capt. Jason and Karen Orth.  They are fabulous home chefs with cooking, pizza making, grilling and BBQing. I am always very impressed with their amazing recipes and cooking methods! 
Instructions 
Step 1:
Marinating: 
Rinse lamb with cold water and pat dry (make sure roast is untied and not bound). (Do not re-tie until after the marinating process, if you do, the marinade goodness won't penetrate deeply into the meats interior and exterior). 
Put marinade ingredients in a blender and blend until an emulsion is formed and all the ingredients are well blended. Place roast in gallon size plastic bag. Pour the marinade emulsion into the bag and massage well into the meat. Seal the bag tight and refrigerate overnight.
Next day, let your roast sit on the counter for an hour to get it to room temp. Remove roast from the bag, discard marinade. Take butchers twine, roll and tie the lamb into a tight, compact roast shape. 
Step 2:
Setting up the Kamado Cooker or House Oven and Reverse Searing: 
(Reverse Searing is cooking at a low temp first and searing at a high temp at the end. After the first time I reverse seared a roast and thicker steak, I rarely cook them any other way.) 
Note: If you prefer not reverse sear, just oven roast or grill the lamb indirect your normal way. It will still be fabulous! 
Kamado Cooker Grill (Big Green Egg, Kamado Joe etc): 
Prepare the Kamado with the platesetter for indirect cooking and raised grid if you have one. Stabilize your kamado to 225-235 degrees. Use any lump of your choice.  Place a foil pan underneath the top grill rack to catch any drippings. Do not add water. When the temp is stabilized, place the lamb directly on the grill rack. Cook to desired temp range listed below, remove and set aside. 
House Oven: 
Set to 275 temp, use lower-middle rack. Do not add water. Place lamb on an oiled wire rack placed on a foil-lined rimmed baking sheet. Cook to desired temp range listed below, remove from oven and set aside. 
It should take approx 2 1/2-3 hours for a 5 lb boneless leg of lamb. Pull the lamb when it reaches the temp range preference listed below. Set aside. 
**These temp ranges to pull off the meat are based upon your preference of doneness:  Be sure to use an instant read thermometer. 
For rare, pull meat off when probe reads 120-122;

For medium rare, pull meat off when probe reads 128-130;

For medium (with a touch of pink), pull meat off when probe reads 134-136;

For well done, pull meat when the probe reads 142-144.
Step 3:
Raising Temps, Searing and Resting: 
Kamado Cooker Grill: Remove the lamb and platesetter, place the grill rack back in and increase the temp to 600-700 F.  Place lamb back on the grill rack. Sear the roast for 30-90 seconds on each side to a rich, deep luscious brown color. 
House Oven: Remove the lamb, increase the oven temp to 500 F. Place lamb back in and sear for about 5-10 minutes to a beautiful, rich brown color. 
After searing, remove, LOOSELY tent the roast with foil and set it sit on the counter to rest for 5-10 minutes before carving. (Be sure to Loosely tent, otherwise the meat will steam). Remove twine, carve and enjoy. OOOPA!  
Spring Pea, Mint and Truffle Purée (recipe courtesy of Feast at Home)
2 cups fresh shucked or thawed peas from your freezer.  
1/2 cup water (you might need a tbsp more)
2 TBLP olive oil
1 TBSP Truffle oil ((optional but this really adds a great flavor ))
1 clove garlic – small
1/3 cup fresh Mint (or fresh herbs such as tarragon, basil or flat leaf parsley) Pea tendrils for garnish, optional. They are so fresh, pretty and delicious or just use parsley. 
sea salt & black pepper
Spring Pea, Mint and Truffle Purée (recipe courtesy of Feast at Home
Make the sauce: Blanch the peas in salted boiling water for 30 seconds to 1 minute. Immediately drain in a colander and quickly place the colander with peas in an ice cold water bath to shock and to help retain that nice green color. Add more ice if needed. Drain again when peas are completely cooled.
Puree the ingredients in a food processor. If you don't want a thick purée, just add in more water to thin it. Transfer the purée to a small saucepan. You can make the pea purée ahead of time and keep in the fridge. You can reheat it in a saucepan before serving or serve at room temperature.  Garnish with pea tendrils or parsley.