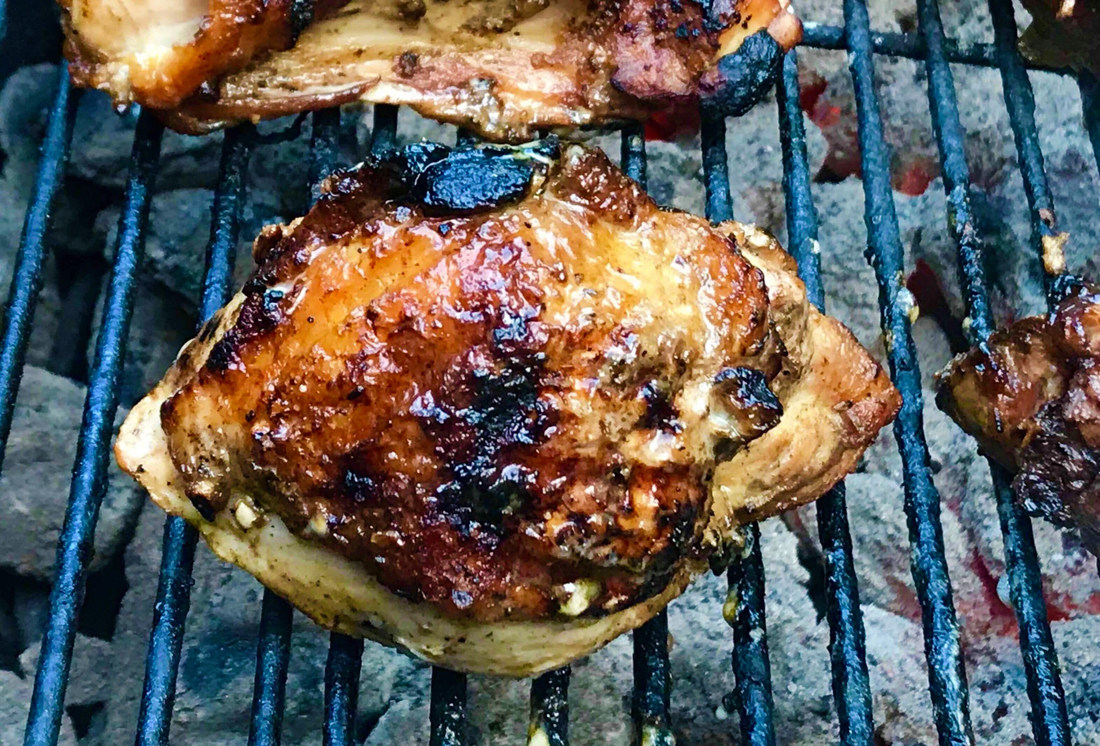 Cornell Chicken
with Salted Potatoes
by Barbara Yonkin Bozon
In September, the BBQing continues.
Many of us die-hards grill all year long up there. Bundle up, brush or shovel the snow off the grill, no problem!
Binghamton, NY has become famous for certain foods. Cornell Chicken for one! It seems the aroma of it fills the air from 1/4 mile away! It's the main dish served at church bazaars, fireman's field days, county fairs, back yard cookouts and at picnics. I'd say that Cornell Chicken is the Pied Piper of a BBQ! Grill it and see the crowds of people who will line up behind you. Grill it and they will come!
What's Cornell Chicken without SALT POTATOES!
Those fortunate to be living in the Triple Cities can easily buy a Salt Potato kit with the potatoes and pre-measured salt all in the bag.
Those who do not live in the area anymore, like me who resides in the NC mountain area, try to order Salt Potatoes on-line or beg your closest and dearest friends to visit you and to please bring a few Salt Potato bags with them! While they are at it, ask them to bring a few loaves of Italian bread from Romas or Di Rienzo Brothers. One of my BFF's, Karen Juser would bring both salt potatoes and Italian bread to us whenever she, her husband Bob and their son Matt visited
A plate of Cornell Chicken, Salt Potatoes, your favorite coleslaw and/or baked beans….life is good!
Now, let's get cooking!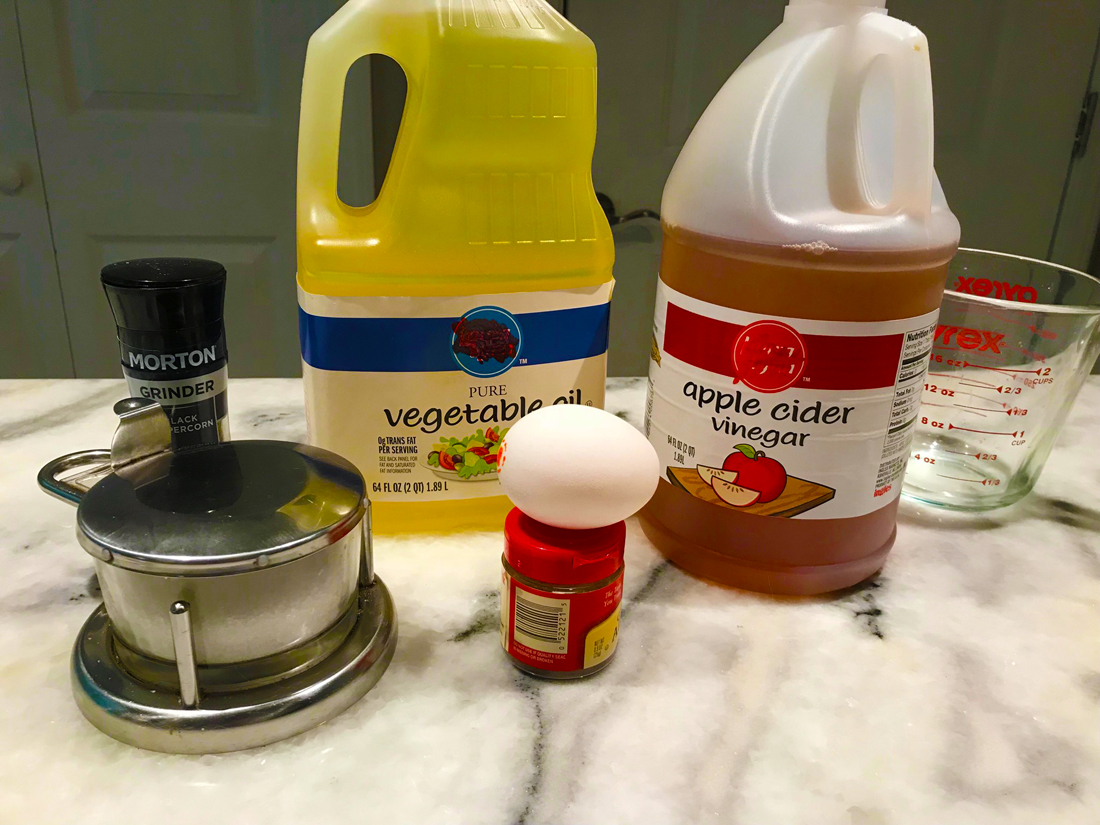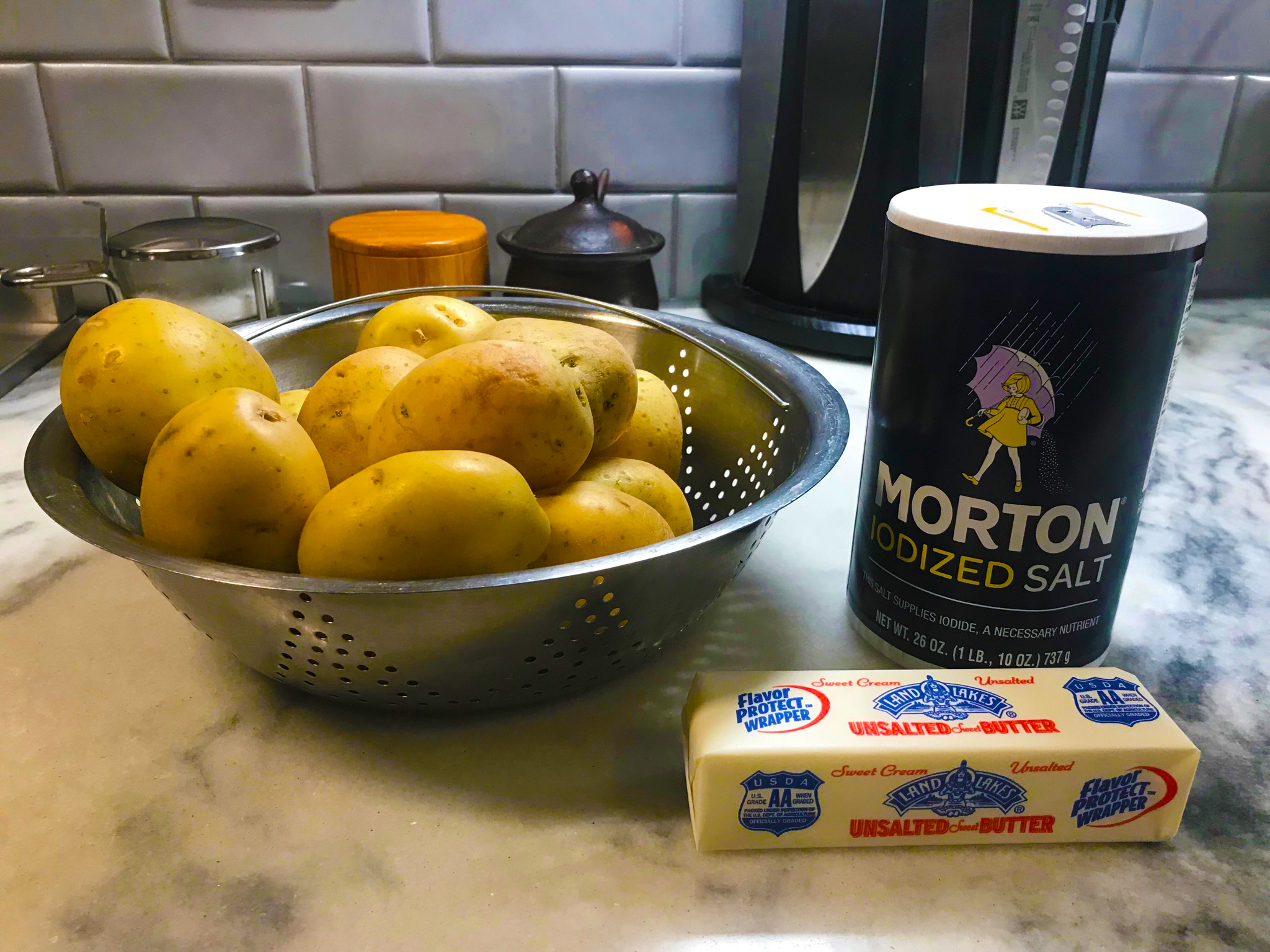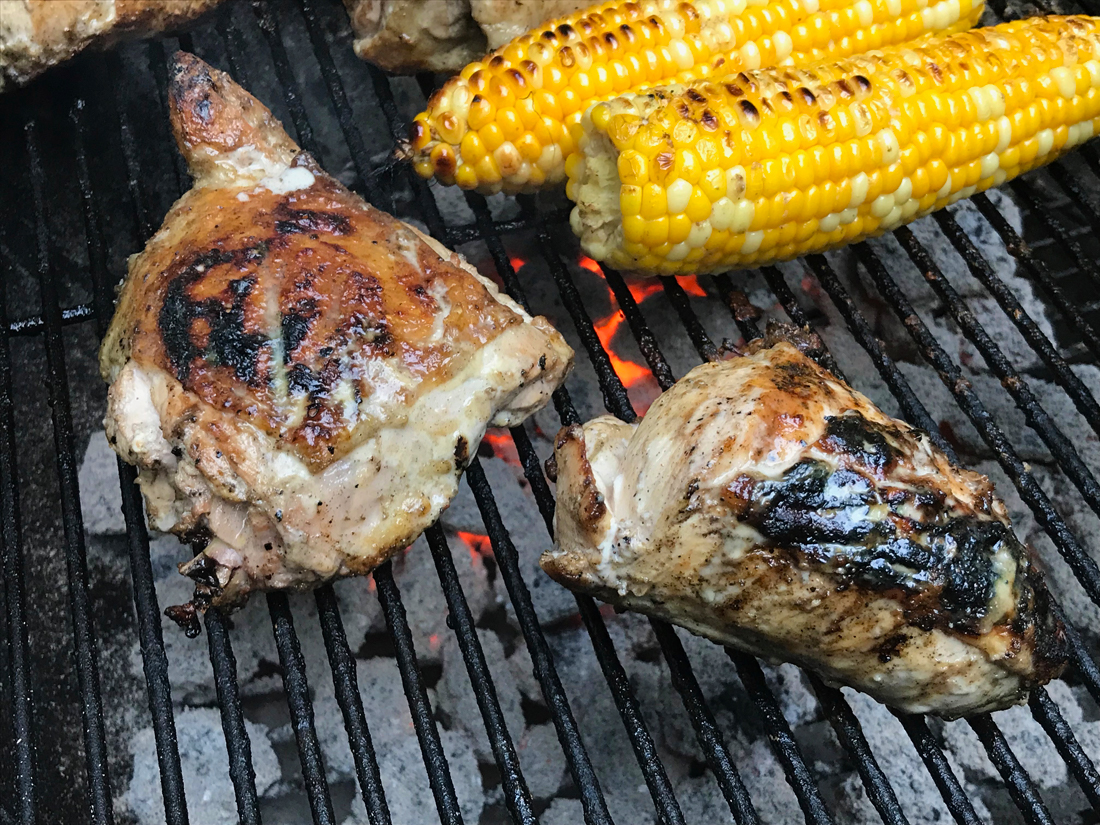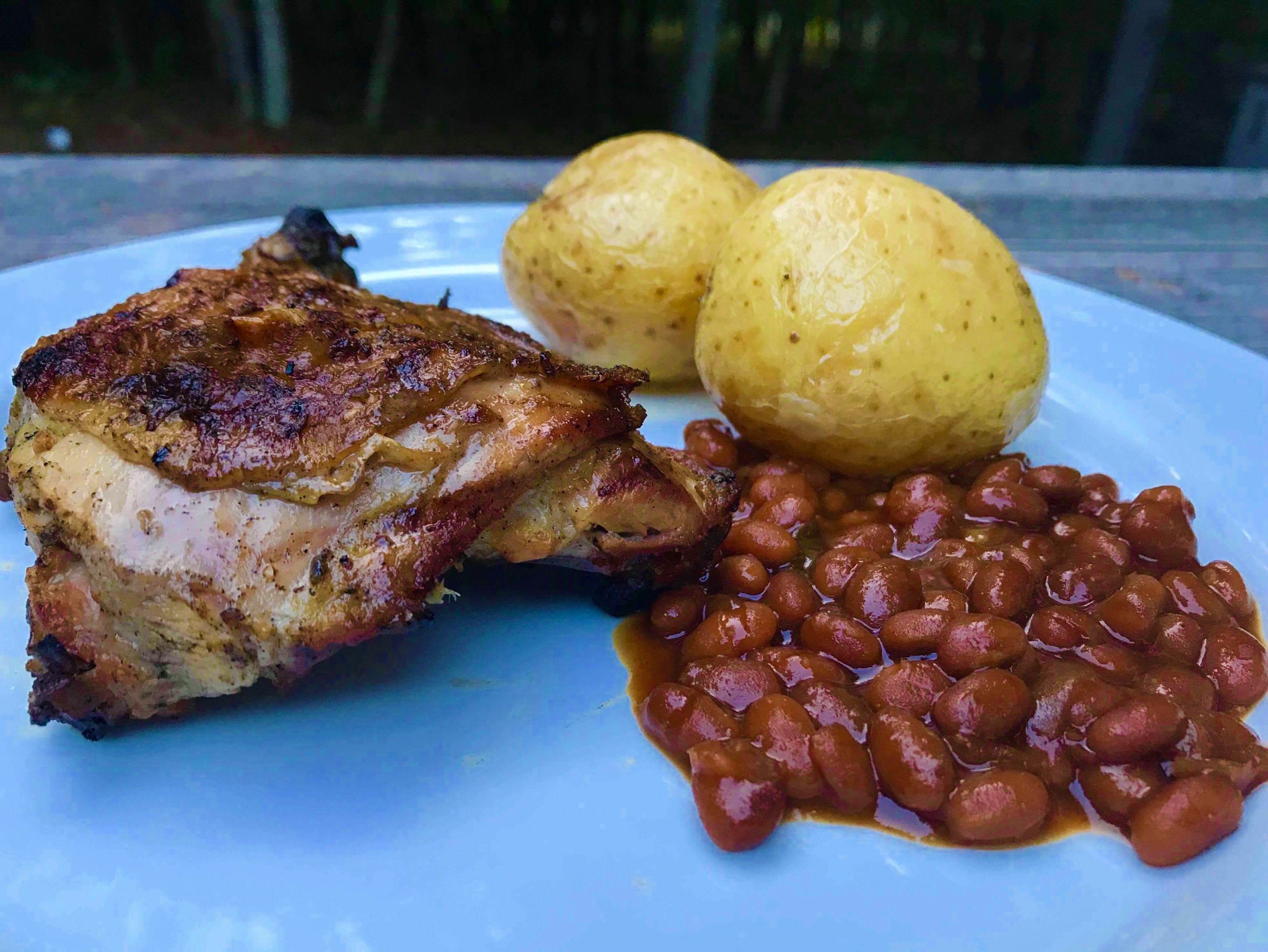 Cornell Chicken …check!
Salt Potatoes..check!
OK! Let's eat!
Cornell Chicken BBQ Sauce Recipe
Ingredients:
2 whole chickens,  2 1/2 to 3 pounds each (cut in half or quarters )

2 cups cider vinegar

1 cup vegetable oil

1 egg, beaten

1-2 tablespoons salt

1/2 teaspoon ground black pepper

1 tablespoon poultry seasoning
Instructions:
Combine the sauce ingredients in a blender and blend until fully emulsified and creamy. Place the chicken pieces in a large zip-locking type plastic bag or in a large bowl and pour in 3/4 of the sauce. Reserve 1/4 of the sauce for basting. Seal the bag or bowl and refrigerate until ready to grill.
Refrigerate for 2 -24 hours. I have marinated the chicken for up to 2 days and it was excellent. Remove the chicken from the container and discard the marinade sauce.
Grill over charcoal, about 20-30 mins per side. Turn often, basting liberally with the reserved sauce every 5-10 minutes, until meat thermometer reads 165 degrees. Be careful not to let chicken burn. (Keeping a spray water bottle close by helps if the flames get out of hand). Grilling over charcoal or a gas grill, I chose charcoal because, in my opinion, it really enhances that distinct BBQ flavor of the incredible vinegar based marinated chicken.
Salt Potatoes
Us Binghamtonians know that Salt Potatoes are not simply boiled potatoes with butter. They are far from it! Salt Potatoes are creamy, tender small white potatoes that are simmered in heavily salted water, then air dried so that lovely layer of salty goodness clings to the outside. They are not overly salty at all..as Baby Bear would say…."It's just right!"
White boiling potatoes works the best. Red potatoes work fine, but the salt seems to cling a little better to the slightly rougher skin rather than to smoother waxier skin. Baking potatoes or Russets do not work well at all. Make sure the potatoes are on the small size. Do not cut the potatoes to make them smaller, you want the salt to be on the outside of the potato skin, not to penetrate the inside.
So, if you are like me and are not fortunate to buy a bag of Salt Potatoes, here's a great recipe to try.
Salt Potato Ingredients
3-4 quarts of water

12 ounces fine salt (about 1 1/2 cups). *Table or kosher salt, just along as it's a fine salt. Do not use coarse

4 1/2 pounds small-sized new white potatoes *red or small Yukon gold are fine

1 stick cold butter, cut into 6-8 pieces

Chopped parsley is optional
Bring water to a boil in a large stockpot over high heat. When it is boiling, add the salt and stir well well. Add the potatoes and stir well. Return the water to a boil, lower to medium heat and simmer until the potatoes are cooked. I place a pot cover offset as the salted water can spatter all over your stove top. Any mess is worth it, just wipe as it cooks. Cooking time is about 15 -25 minutes.
Carefully pour the water and potatoes into a colander. Leave to AIR DRY, undisturbed, for 3-10 minutes so the salt can dry on the outside of the potatoes. Drying is an important step.
To serve, there are different ways to add butter. One: place the dried hot potatoes back into the pot, add butter and gently mix it in. Two: place the potatoes in a serving bowl, then top with butter without mixing it in and letting the butter melt. Three: serve butter on the side so people to add their own desired amount. Whichever way works best for you.
Personally, I love to place them in individual serving bowls or in one large bowl/ platter, top with butter method, letting it melt down. This way I get both, that beautiful dry salty dusting on the potatoes and lovely butter that melted down perfectly all over them, you stir it as you eat . Oooooo.
Salt potatoes can be served hot, warm or at room temp. Use any leftovers for potato salad, fried potato cakes, hash browns or whatever you heart desires.