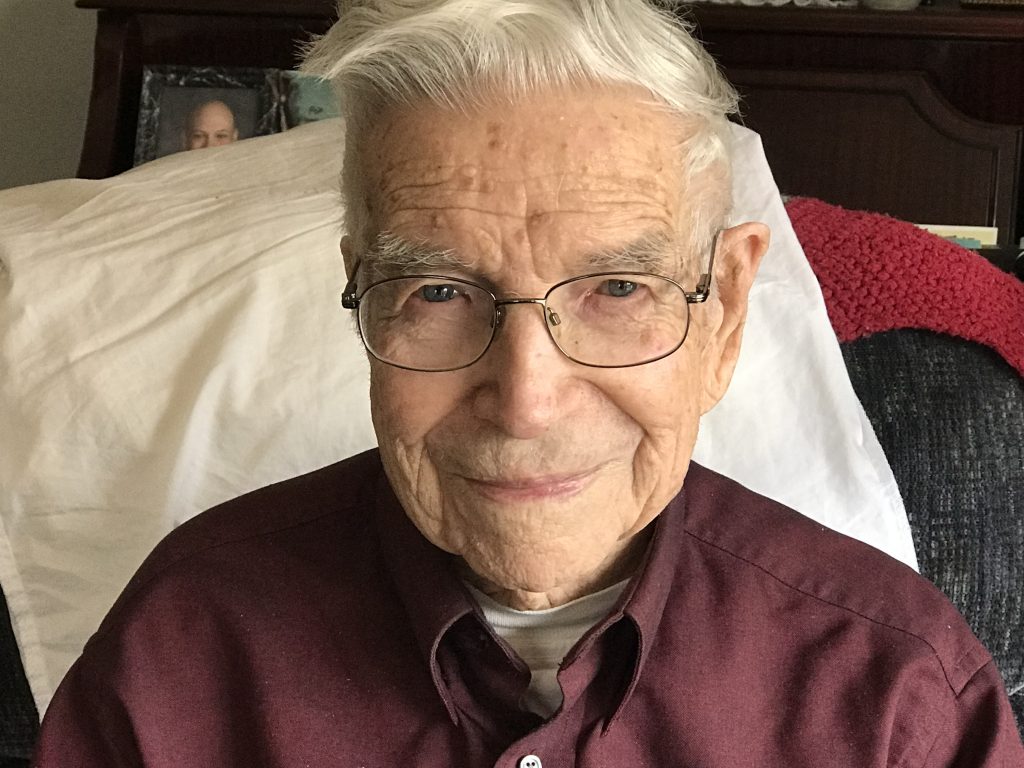 101 years ago the American flag had 45 stars, only 14% of the homes had a bathtub, the maximum speed limit in most cities was 10mph, and the average wage 22 cents per hour.  But perhaps the most interesting fact that happened 101 years ago was that Charles Louden was born.
Chuck is a celebrity in Endicott – some even consider him "Mr. Endicott" for the thumbprint he has put on this area. Born on Upper Taft Ave he has lived and worked in the Endicott community his whole life.
Some of the things you should know about this great man is that he has such a big personality, perhaps one of the friendliest men with a quick smile and expansive sense of humor who is proud to say he has no enemies because of his motto in life "Do unto others as you would have them do unto you".
He wanted to go into the military like his brother who was a bomber pilot in the South Pacific during WWII but he couldn't pass the physical due to hearing loss.  So instead he became the second generation in his family to work at IBM  – yes that's right his father worked at IBM as well.  For those of you who do not know IBM started as ITR ((International Time Recording) and made clocks. It wasn't until Thomas J. Watson moved to Endicott from Horseheads that he built up IBM to be the worldwide powerhouse it is today.
While at IBM he sat on the Board of Governors for the IBM Country Club and is the originator of many ideas for which IBM purchased.
Chuck was married to his wife Margaret for 78 years and 2 months of marriage which is not far from the world record.  During his years of marriage he and his wife raised two children Joanie and Chuck – you may remember his son who was the Fire Chief for West Corners.
The story of him and his wife is one that our Kismet sections are written about. You see, he met his wife when he returned back to high school to perform better in Geometry.  He was playing the trombone solo to "Thoughts of Love" when he caught the Junior's attention.  It was during the Tommy Dorsey encor "I'm getting sentimental over you" that their gaze and her standing ovation showed the world, or at least those in the UE High School auditorium that there was something special going on between the two of them.  Chuck says this moment in time was the defining moment in his life for which everything else would build.  And with that conscious thought Chuck wasted no time asking her out.Their first date was at Bill's Soda Spa which is the now location for the Pantheon.  The two shared a hot fudge sundae and it was on that first date that Chuck knew she was the one he would marry. And each year on that same day they always found a place to celebrate by having hot fudge sundaes.
They say that attraction happens when two people share such a strong bond and perhaps that bond for them was music.  Margaret too loved music and in fact played the piano and was part of an all girls band.  Chuck said his wife went to Florida with the band in 1935 when the UE football team played Clearwater.  Her all girls band was one of the first in the country and the trip for the all girls band as well as the all male fife and drum band, a total of 186 band members in all, was paid for by George F. Johnson of the Endicott Johnson fame.  Johnson was a huge supporter of this area in many areas including music. He had erected the George F. Johnson Pavilion where the UE administration building and St James Church are located now and this site brought in so many top musical names including Frank Sinatra as well as heavy weight boxing championships and well known dancers such as Gene Kelly's sidekick Donald O'Connor who Chuck said had the women lined up for blocks for a chance to meet.
Yes music was and is a huge part of Chuck's life.  He played for several bands including IBM, EJ, Vestal Community bands, and the Mason Warrington Orchestra for which he played for until he was 90.  In fact, when the Wind Jammers, a national group of musicians would play around the country they would call on him to join them.  If it wasn't for his responsibilities at home and needing a steady paycheck Chuck could have gone professional.  But sitting next to his old trombone,  at 101, Chuck said the secret to a successful life is believing in God, having close friends, caring about the children of the world and helping others in whatever way you can.
Chuck has been a member of the Endicott Kiwanis and he and his wife were the Grand Marshalls for the UE parade celebrating its 100th year.  A photo of him hangs in the school today.  Chuck loves UE football and is proud to say ever since he went to his first game at the age of 5 he has never missed not even one single home game.  And perhaps one of his more celebrated memories was when UE high school Principal Steve DiStephano gave him the honor of tossing the coin at the UE Vestal football game this past year.  Chuck jokes that the coin landed in favor of Vestal for which his friend UE teacher Dick Testa jokingly chimes in "ya that's the last time you are going to do that buddy!".