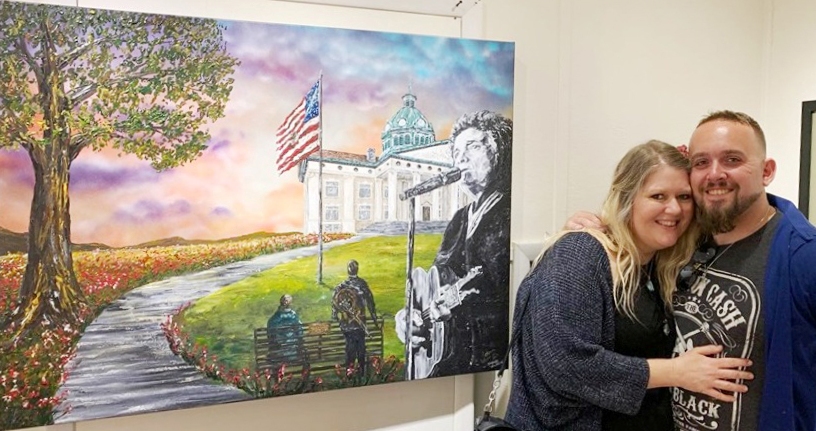 Pride, Love, and Sacrifice
(A Tribute to Johnny Cash's Ragged Old Flag
Written by Rebecca Whitman & Stephen Whitman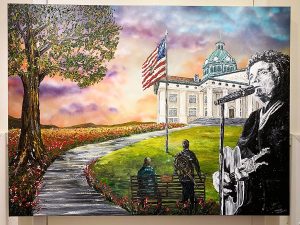 We were honored to share our story of love and art.   At Stiletto's Fine Arts Studio we believe that our local community has so much potential and that we come from an amazing town.  Each day we strive to do our part to give back to this beautiful community that so graciously supports us as artists.  So many great people have been born and raised here and have touched the world because of their roots in Binghamton, NY.  We may be but a speck on the map of the world, but we have impacted the world…
 in our own way many times.
In 1974 Johnny Cash was on The Emery Show and he proudly stated that he wrote the song Ragged Old Flag right here in Binghamton NY.   This song impacted a nation in one of its darker hours…. and it touched the hearts of many around the world.  We were proud to give Binghamton a lasting memory of this beautiful tribute written by an American Icon.
Together, as a husband and wife team, we painted Johnny's story of the song Ragged Old Flag.  A local veteran, a random stroll around our courthouse made by Johnny, and a brief conversation between two men impacted Cash enough to write his song of American pride, sacrifices made, battles fought, warriors returned home, and a flag that withstood it all.  We hope that you and all of Binghamton, NY  can enjoy our personal tribute to The Man In Black, a proud local veteran,  a majestic flag,  and our beautiful home town, Binghamton, NY.
– The Painting is on display at The Bundy Museum and is a part of The Art Of Binghamton yearly art show.